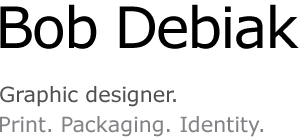 I'm a designer with a unique ability to spark conversation and connection. I work with some of the most compelling brands in the world, delivering great creative based on exchanged ideas and solutions. From logos and brochures to web sites, I design creative with a purpose so you see results.
It's hard work and I love doing it.
Clients include BP, Castrol, Emerson, Philips Respironics and Sony.
Contact me to start the conversation you need to have to be better than your competition.
Bob Debiak
rdebiak@mac.com
973.781.1908